Single-Wing College Quotables:
Florida coach Urban Meyer described what Tebow does as:
"…
single-wing
, like they did many years ago," and maintains that despite the statistical predictability (88 percent) of Tebow running, there is still the threat that he can beat a D via the option or the air -- for example, the 23-yard pass Tebow completed on his first play against Alabama. "There are more weapons than Tim Tebow when he's on the field," Meyer said, "and you better cover them."
Urban Myers October 6, 2006 Sports Illustrated (SI.com )
---
"It's kind of the old
single wing
, where they've got a lot of misdirection and direct snap (to McFadden), get the ball in your top player's hands," Hankwitz said. "It's a modern adaptation of it, because they spread you out, more than that (single wing) did, but they still have a lot of the similar elements."
-- University of Wisconsin defensive coordinator Mike Hankwitz
Last season alone, Darren McFadden completed 7 of 9 passes for 69 yards and 3 touchdowns out of the Wildcat formation, which helped him become the runner-up for last year's Heisman Trophy.
• When the Razorbacks line up in the Wildcat formation, Arkansas averages 8.7 yards per play. (Source Mic Huber www.heraldtribune.com)
---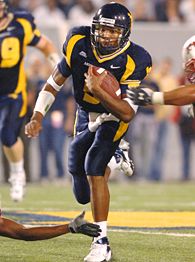 Watching West Virginia's offense, with QB Pat White lining up in the shotgun and always a threat to run, and with tailback Steve Slaton the only other back in the backfield, it reminds me of the
single wing
. It helps to have two backs who are as fleet as White and Slaton. White wears No. 5 and Slaton No. 10, so I'm sure I'm not the first sportswriter who's remarked that West Virginia nickels and dimes opponents to death.
-- John Walters November 2, 2006
In 2006, Pat White lead the nation in QB rushing yards per carry – averaging an astonishing 7.3 yards per rush.