WAYNESBORO — Coming off a 1-9 season, the Waynesboro Little Giants think they are a much improved team for the 2008 Southern Valley District campaign.
Waynesboro led in six of those 10 games before giving way to its opponent as the burden of playing both ways took its toll on the players.
This season's numbers are way up, and Little Giant coach Steve Isaacs has solved that depth problem as only two players are currently slated to play on both sides of the line.
"Last year, it was all of them," he said.
"We have good kids here," the Waynesboro coach said. "We have athletes and skilled players. I've never had this many skilled players at one time in my career. We can run the single wing, or bang the off-tackle, or we can go four or five wide and throw it downfield."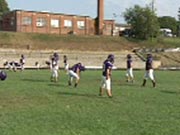 All told, the Little Giants have 39 players on their squad, including 11 seniors, 10 juniors, 17 sophomores and a freshman.
"They (sophomores) are stepping into front line positions, and are giving us a lot of depth, too," Isaacs said.
Looking at the district, Isaacs thinks the Little Giants have a chance.
"It still probably will have to go through Staunton or Lexington," he said. "Lee has the best athletes and Jason (Rockbridge County coach Jason White) has all those kids coming back, but don't count us out. If we stay healthy, we can get up on the porch, and knock on the door."
The Little Giants have 14 returning lettermen including eight starters on offense and four on defense.
Size-wise, the defensive line averages around 220 pounds, while speed-wise, Isaacs rates the team as excellent at all skilled positions.
The Waynesboro coach particularly likes his offense, which boasts an experienced backfield.
"We're not exceptionally strong anywhere, but on the other hand, there are no glaring weaknesses," he said.
On defense, the Little Giants will have a lot of new players, particularly sophomores, filling positions, and that inexperience will be tested.
Junior Chet Berry returns at quarterback. "He has really matured over the year," Isaacs said.
Running the ball will be seniors Terrell Thompson and Steven Brown, who have started since their freshman year. Brown carried the ball for 656 yards and seven touchdowns last season and was selected to the all-Southern Valley District first team. Also joining them is junior Eric Craig and senior blocking back Aaron Lamb.
The team has an abundance of receivers, led by all-district selection senior Clyde Thompson. Also in the mix are senior Tripp Hite, and sophomores Sean Hanlon and Bryant Carter.
The offensive line is not set. "We could start two seniors, a sophomore, freshman and junior, or three seniors, a junior and a sophomore," Isaacs said.
Returning senior guards are Jacob Lipscomb and Chaz Crews. Leading tackles are junior Marco Belew and sophomore Jon Isaacs, while senior Kendall Sweet will be at center.
On defense most of the returning experience is at linebacker where Brown and Lamb will go both ways. Joining them will be sophomore Tyler Briggs.
Manning the line at nose guard will be 6-foot-2, 347-pound sophomore Robin Silver. Also seeing time on the line are Crews, Lipscomb, and juniors Leroy Brown and Eddie Juarez.
The team's free safeties are sophomore Kevin Jackson and junior Justin Clark while sophomore Logan Jones is at the corner.
Steven Brown and Nick Vela will fill the kicking positions.
Isaacs' goal is for his team to practice on Thanksgiving Day. "That means we are in the playoffs," he said.
====================================
===================================
Waynesboro High School • 301 Pine Avenue • Waynesboro, VA 22980
===================================