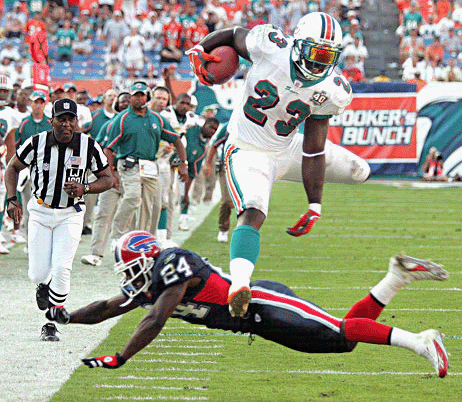 The "Wildcat" is spreading like, yup, wildfire.
The offensive formation that lines up a running back in the shotgun with the quarterback split wide made its debut in Week 1. The Raiders, in their typically trendsetting ways, had rookie Darren McFadden taking the snap before deciding whether to run, hand off or pass the football.
While sort of new to the NFL (old-timers will recall the single wing; newbies would note that's Vince Young's game), it was a been-there, done-that moment for McFadden. He had successfully directed the Wild Hog formation, a predecessor to the "Wildcat," at the University of Arkansas the previous year.
But it wasn't until two weeks later the 'Cat showed it could run with the big dogs.
In a now oft-told tale, the 0-2 Dolphins were flying back to Miami after getting trounced by Arizona when coach Tony Sparano huddled for a chat with quarterbacks coach David Lee. Sparano was getting antsy after his offense had generated 24 points in the first two games so he brainstormed with Lee, who had called the offense at Arkansas last year.
The Dolphins' next game was against the Patriots and, you might recall, they left New England with a 38-13 victory that appears to have salvaged their season. The hoopla afterward wasn't so much about the stunning win, but the way in which Sparano outfoxed Obi-Wan Bill Kenobi Belichick.
The Dolphins direct snapped to running back Ronnie Brown on six occasions with quarterback Chad Pennington flanked outside. Those plays accounted for 119 yards and three touchdowns with Brown running for two scores and passing for another.
"We watched the game (tape) and they did a nice job with it," coach Jim Haslett said when his Rams passed through town last month. "I think it just caught New England by surprise more than anything."
The next day Belichick was asked if he thought the Patriots would see more of the formation that had immediately been dubbed the "Wildcat." (Apparently Barracuda was taken.)
"I don't know," he answered. "I think we better be ready to defend it."
The Patriots have only had to defend against it once since then. In their first game after Miami, the 49ers direct snapped to running back Frank Gore on a play that netted 7 yards and a first down. That San Francisco didn't go that route again perhaps explains why Mike Nolan no longer coaches the team.
Meanwhile, Baltimore, Jacksonville, Cleveland and Houston are among those who have also dabbled with the "Wildcat." That's big news in a league that typically dismisses gimmicks and gadgets as collegiate chicanery.
The Patriots joined the craze last Sunday against the Colts, twice going shotgun with running back Kevin Faulk calling signals and quarterback Matt Cassel shifting to receiver. The results were mixed as Faulk rushed for 5 yards and saw a screen pass to Wes Welker lose 2 yards.
"Just a couple plays we had in there to try to throw them off balance," said Faulk, who scored on a 2-yard run against the 49ers off a direct snap although Cassel was next to him in the backfield.
Belichick explained teams are always looking for ways to give the same plays a different look, particularly in the run game as the season moves along.
"After a few games, everybody has pretty much seen your running game and it's hard to put in a lot of new running plays because there is so many moving parts with the linemen and the tight ends and the backs — you just don't have a lot of time to work on them," he said. "I am not saying you can't do it but it's hard to do a lot of it. So you find a way to change up those things.
"I think you see a lot of teams doing that in some form or fashion whether it is a motion or unbalanced line, direct snap to the running back, shifting — those kinds of things to give the defense a little something else to think about before the ball is snapped."
Offensive coordinator Josh McDaniels was predictably mum on whether the Patriots would go that route again. What he does expect is for the opposition to be ready for it to happen.
And that, in turn, benefits the Patriots.
"You run it and you make the other team worry about it during the course of the week and that's part of coaching and preparation," McDaniels said. "It's a pain in the butt sometimes when people do things a very few number of times, but you still have to prepare and spend practice reps on them and that's time that you're not spending on something they may do a lot more of. There are two sides to the coin and if you can get it to work for you it's great and if not at least the other team has to defend it."
The Dolphins have regularly gone "Wildcat" on Sundays. They used it 10 times against the Chargers, Brown rushing for the winning touchdown, and eight times against the Texans, including one play in which Brown handed off to running back Ricky Williams, who handed off to Pennington, who threw a 53-yard touchdown pass to a third running back, Patrick Cobbs.
The Dolphins have run 41 plays out of the "Wildcat" with a return of 285 yards and six touchdowns. They're averaging 7 yards a play out of the formation compared to 5.7 in their traditional offense.
The "Wildcat" has caught on, but defenses are apparently starting to catch up.
The Dolphins were handcuffed against both the Broncos and the Ravens, who presented their own quirky formation in the form of a four-lineman, four-linebacker setup designed to fill any running lane Brown might seek out. Miami finished with combined negative yardage out of the "Wildcat" in those two games.
Wildfires, after all, only burn so long before they're snuffed out.
The Dolphins, Colts, Packers, Vikings, Saints and Broncos all entered Week 10 with 4-4 records. History tells us at least one and perhaps even all six teams will make the playoffs.
The Broncos obviously took the first step in that direction by rallying to defeat the Browns on Thursday.
Twenty teams have reached the playoffs since 2000 after hitting the season's midpoint at .500. There's been at lest one every year and six pulled it off in 2002. Last year, the Chargers, Seahawks and Buccaneers went a combined 18-6 in the second half to garner postseason invites.
The Patriots made the list twice. They finished 11-5 in 2001 and went on to win their first Super Bowl. Four years later, they went 10-6 before getting eliminated by the Broncos.
In a related matter, the Patriots have the best record in football this decade in regular-season games played from November on. They're 53-17 for a winning percentage of .757. The rest of the top five: Philadelphia, 49-22 (.690); Pittsburgh, 48-23-1 (.674); Green Bay, 48-24 (.667); and Indianapolis, 46-27 (.630).
Joey Porter was OK last season, his first with the Dolphins, accumulating 65 tackles, 5.5 sacks and 2 interceptions for a 1-15 team. But he wasn't the marauding linebacker who made a name for himself during the eight previous seasons in Pittsburgh.
Overpaid and underperforming were the words most used to describe Porter. No more.
Porter leads the NFL with 11.5 sacks through eight games, including a four-pack against the Patriots. He's already eclipsed the career-high 10.5 he had in 2000 and '05 and is on pace to break Michael Strahan's league record of 22.5 set in 2001 (think Brett Favre falling down).
And to think all it took was shifting Porter from the strong side back to the weak side, where he had spent most of his career, as the Dolphins went to a 3-4 defense.
"One of the things I think with Joey, and we went back to his Pittsburgh days, is just he's just much more natural I think first of all, being to the open-end side, kind of away from the tight end a little bit," said Sparano, the Dolphins' first-year coach. "It's really more natural for him. It gives him a little bit more room in his pass rush. I think really what sets him aside and makes a difference for him in this defense is him in space."
Only six players have had 20 sacks in a season, although it should be noted the NFL didn't recognize sacks as an official statistic until 1982. In addition to Porter, Marcus Ware of the Cowboys, John Abraham of the Falcons and James Harrison of the Steelers each have 10 this year, putting them in position to join the exclusive club.
It's midseason projection time: Randy Moss (1,072 yards) and Wes Welker (1,006) are on pace to become the first duo in Patriots history to record consecutive 1,000-yard receiving seasons. …. Welker, with 56 catches, is halfway to matching his franchise record of 112 set last season. … Linebacker Jerod Mayo is attempting to become the first rookie to lead the Patriots in tackles since the 16-game season was unveiled in 1978. He's got 65 at the moment. … Stephen Gostkowski, with 19 field goals, is well on his way to obliterating Tony Franklin's team record of 32, set in 1986. … Cincinnati's T.J. Houshmandzadeh, Denver's Brandon Marshall and Welker are on pace to finish with more than 100 catches for the second straight season, something only seven other NFL players have done. … Philip Rivers is on track to become the first Charger since Dan Fouts in 1981 to throw for 4,000 yards. … Titans RB Len Dale White is projected to finish with 20 rushing TDs, which would eclipse the franchise record 19 by Earl Campbell in 1979. … The Cardinals lead the NFL with 234 points and are on pace to eclipse the team record of 468 set in 1984. … The Giants are on track to win 14 games and score 452 points. That would tie the club record for wins set in 1986 and top the mark for points established in '63.
The Patriots entered the season with a schedule deemed the easiest in the NFL, their opponents having gone 99-157 for a winning percentage of .387 the previous year.
Things can change once the games get under way, the Falcons and Browns being excellent examples. The Falcons are 5-3 after going 4-12 last season. The Browns have gone from 10-6 to 3-6.
The Patriots' first eight opponents are currently a collective 26-39 (.400), so that's right around the way things were supposed to go. But their next eight games are against teams that currently stand at 34-30 (.531), so things are going to get much tougher.
Throw out the Seahawks and Raiders, who are both 2-6, and you have six teams that are a sturdy 30-18 (.625).
According to USA Today, the New York Giants (.612), Dallas Cowboys (.603) and the Detroit Lions (.591) have the toughest remaining schedules over the second half. That doesn't bode well for the Lions, who have been competitive as of late — losing their last four games by 2, 7, 8 and 4 points — but remain winless at 0-8.
The Bills took quarterback Trent Edwards out of Stanford in the third round with the 92nd pick. The Patriots had Edwards on their radar and were, according to Belichick, "a little surprised that he lasted as long as he did." The Patriots didn't have second- or third-round picks that year and ended up taking Miami defensive lineman Kareem Brown in the fourth round (127th overall). Suffice to say that's a pick that didn't pan out. Had Edwards lasted, Belichick said, "I'd like to think we wouldn't have passed him up." … The Redskins' 23-6 loss to the Steelers on Monday was the first time they were involved in a double-digit decision this season. And six of their first eight games were decided by seven points or less. Then you have the Saints, who are 4-4 with three of the losses by a combined 10 points, and the Jaguars, who 3-5 with every game decided by seven points or less. … The Patriots placed rookie linebacker Sean Crable on season-ending injured reserve with a shin injury. But Crable looked pretty healthy striding around the locker room last week. This appears to be nothing more than a way to free up a roster spot by pushing aside a player who has long-term value to the team but clearly wasn't going to help this season.
Deltha O'Neal voted with his heart and not his wallet.
O'Neal cast his presidential ballot for Barack Obama despite the Democrat's stated intention to increase the tax burden on those in the upper-income brackets. O'Neal is pulling down $1 million from the Patriots to play cornerback this season, which means he's likely to be out money now that Obama is in.
"To me, he just seemed like the right fit for that job," O'Neal said.
As for what difference Obama can make, O'Neal believes some things have already changed.
"I always hear (black) kids say I want to be president and I'm like, 'Yeah right,' " O'Neal said. "But the sky is the limit and I can tell my kids now it's a possibility. Don't ever let anyone put limits on you."
Ellis Hobbs, another Barack backer, provided secondary support a few lockers over.
"There is pretty much nothing that is impossible in America (now)," Hobbs said. "Where there used to be comedians talking about all the time (how) you'd never see a black president, this or that or whatever it is. It's just setting up for new frontiers where you're seeing women more in office and all these things. I'd just say it all represents change and it's great."
Some quick hits and useful numbers with regard to this week's games: The Saints have won four straight against the Falcons, by 20, 18, 6 and 20 points. The Falcons are 3-0 at home while the Saints are 0-3 on the road. … In the last three games — all wins — Baltimore QB Joe Flacco is 46 of 76 (60.5 percent) for 620 yards and 4 TDs with no interceptions. … Seattle, which travels to Miami, has lost at Buffalo, at New York and at Tampa by a combined score of 98-26. … The Packers have won four straight against the Vikings, by 4, 6, 2 and 34 points. Ten of the last 12 games in the series have been decided by seven points or less. … The Jets' Thomas Jones has five TDs in the last four games. Fellow RB Leon Washington has three TDs in the last three games. … The Steelers, playing the Colts for the first time since upsetting them in the playoffs three years ago, are 5-0 vs. the AFC this season. … The Chiefs and Chargers have split their last 10 meetings. … The Giants have won 5 of the last 7 vs. the Eagles. … The Cardinals are 3-0 at home, where they have won 7 of 8 dating to last season. The loss was to the 49ers in OT.
Random thoughts
Some random thoughts in no particular order: It seems funny not reading about Mr. Bundchen anymore. … Wonder if Josh McDaniels regrets not interviewing with the Falcons or the Ravens. … Losing to the Colts is going to come back to haunt the Pats. … Who would have guessed you can sell cold alcoholic beverages or cold carbonated beverages — but not both — at convenience stories on Saturdays in Indiana. … Can't they just save everyone the trouble and have the Raiders call it a season.
Material used in this report was collected from personal interviews, wire services, Web sites, and league and team sources. Rich Garven can be reached by e-mail at rich.garven@verizon.net or rgarven@telegram.com.