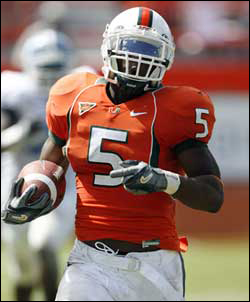 Miami changes offensive gameplan
BY CRAIG HANDEL
FLORIDA TODAY


CORAL GABLES - -- It didn't compare with Florida's Tim Tebow, West Virginia's Pat White or Arkansas' Darren McFadden; but the University of Miami's use of the direct snap gave the Hurricanes' offense another look in its 34-17 victory over Texas A&M.

Freshman tailback Graig Cooper scored Miami's first touchdown -- a 7-yard run -- after taking a direct snap. Sophomore tailback Javarris James set up the Hurricanes' second TD when he took a direct snap for a first down on fourth-and-1.

"You can see the hole a lot better," James said. "Back there, it feels good to be a quarterback sometimes. I wish I could throw a pass."

Maybe that will be included in Miami's next package. "No, I'll leave that up to Kyle (Wright)," James said.

While Miami had practiced the direct-snap plays since spring, it never showed it in scrimmages or games until Thursday.

"We hadn't seen it before," Texas A&M coach Dennis Franchione said. "But I'm not ever completely surprised. The trend is it being done just about everywhere, teams doing it a little bit."

The direct snap goes back to the days of single-wing football, in the late 1930s and early 1940s.

West Virginia coach Rich Rodriguez, who used it 15 years ago when he coached at Division II Glenville State (W.V.), said he basically did it to give his shorter quarterback more time to pass.

"Since then, the run game evolved," he said. "Coaches throughout the country are copy cats."

So far this season, White has 617 yards passing and 286 yards rushing. Tebow has 1,096 yards passing and 358 rushing while McFadden, who has run for 512 yards, has thrown a 42-yard touchdown pass. Last season, he went 7-of-9 for 69 yards with three TDs.

"They try to outgap you," said Troy coach Larry Blakeney, whose team lost to Arkansas in its season opener. "Whoever catches the direct snap, you can't fill all the gaps unless you play man-to-man coverage.

"It's done to create one-on-one matchups. People get you to play wide but you can use the power game or you can use play-action pass."

North Texas coach Todd Dodge will face Arkansas this week. He said by not taking a handoff, a back can get to the line quicker.

"It's a different timing," Dodge said. "As coaches, we're constantly watching video of the sideline and end zone. We're freezing things in different parts of the play to show our players. Whether it's in a passing scheme or blocking patterns, players will find where those creases are.

"You take a guy who's 6-foot-2, 215 pounds and run a stretch play, it's hard to get your hands on him. There's a lot of different creases he can go through. These are things defenses have to deal with him."

When the Hurricanes ran out of the direct snap, they used two tight ends.

"They put seven or eight in the box, but you have two tight ends, eight bodies in the box to block eight," Miami coach Randy Shannon said. "So you win on that on offense."

While Miami had success at key times last Thursday, Shannon said not to expect this as staple in the Hurricanes offense.

"That play is only for certain situations, five or 10 times max," he said. "And then you might not use it another five, six games because everyone will prepare for it."