Arkansas gets boost from reviving two-back attack
By Ron Higgins (Contact)
Tuesday, November 6, 2007
It's Tennessee week for the Arkansas Razorbacks, so it must mean it is time to get the Wildhog offense off the shelf.
The offensive formation, which features all-American running back Darren McFadden as a quarterback in a shotgun formation, with backfield mate Felix Jones as the motion man, hasn't been seen much this season.
Certainly it hasn't been employed as effectively as the Razorbacks used it in last season's 31-14 victory over the Vols in Fayetteville, a game in which McFadden ran for 181 yards and two touchdowns and passed for another TD.
But on Saturday night, when McFadden and Jones made NCAA history in a 48-36 victory over South Carolina, Arkansas ran 16 plays from the Wildhog resulting in two touchdowns and a healthy hunk of the Razorbacks' 541 rushing yards. The 541 was the sixth-highest rushing total by an SEC team in conference history.
McFadden tied an SEC record with 321 yards on 34 carries, matching Vanderbilt's Frank Mordica, who rushed for the same total in 1978 against Air Force. Jones turned in a career-high 166 yards and three touchdowns on 13 carries. The NCAA confirmed on Monday that the Arkansas duo owns the Division 1-A record for combined rushing yards by teammates in a single game (487).
"It was a great feeling once you get back there (in the
Wildhog
) to get it going like we had it going," said McFadden, who ran eight times from the
Wildhog
for 117 yards. "Our coaches felt like we had it going, so they kept sending in plays for the
Wildhog
."
Last year, as much as anything, McFadden's play in the
Wildhog
spurred Arkansas to the SEC's Western Division title and got him a second-place finish in Heisman Trophy voting.
For most of this season, as the Hogs struggled to find offensive balance, new offensive coordinator David Lee hasn't relied as much on the
Wildhog
.
The main reason is a lot of teams did their defensive homework in the off-season.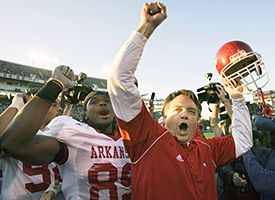 "Last year, teams played basic defense and didn't know which way (the Wildhog) was going," Arkansas coach Houston Nutt said. "So this year, teams have been prepared and been better suited to stop it."
But against South Carolina, when McFadden and Jones got hot in the Wildhog, it was on.
"When you're hitting runs (as the Hogs did against South Carolina), we had like 9 yards a carry the first few runs, it makes you want to stay in it," Nutt said. "It's all about production. If it gets stopped, we have a tendency to go away from it and come back to it later. But the way it was going, it was hard to get away from it."
In just the first quarter against the Gamecocks, Jones ran for 119 yards, with touchdown runs of 40 and 72 yards.
"I've seen defenses do different things to try and stop the
Wildhog,
but it's hard to do once we get it going," Jones said. "It (the South Carolina game) was the most fun I've ever had in a game. Everything was clicking."
McFadden agreed.
"I've missed running the Wildhog a lot this year," McFadden said. "It was a lot of fun to rip off an 80-yard run, and it was fun to stand over there and watch Felix rip off his long runs."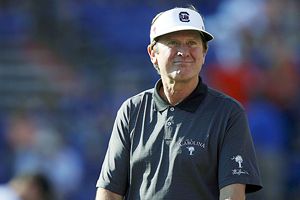 After the game, South Carolina coach Steve Spurrier jokingly accused Nutt of
"Running up the score on the ground".

But Carolina defensive coordinator Tyrone Nix wasn't as jovial, staring a hole through the stat sheet.
"It's embarrassing, it's sad that somebody can run the ball the way they did," Nix said. "I hope both of those guys come out in the draft early."
It won't be soon enough for Fulmer, who tuned into the South Carolina game after the Vols beat Louisiana-Lafayette, 59-7. He couldn't feel sorry for Spurrier because Fulmer had the same helpless feeling last year in Fayetteville, when McFadden ran for 100 yards in just the second quarter.
"That's unbelievable," Fulmer said. "(South Carolina) didn't look like the same defensive football team that played against us.
"I think that goes back to (Arkansas) doing all the
misdirection stuff
, something
you don't see every day
.
It's hard to simulate it in practice."
========================
The Commercial Appeal
Memphis, TN, 38103

.